We accept the following credit cards:



VISA




JCB




MasterCard




Amex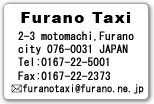 Top < English Top < Sightseeing Tours



Taxi is a convenient and safe way to see the sights in Furano.
Furano Taxi operates the Furano Nature Lovers' Club in order to support outdoor activities.
Our membership in the Furano Nature Club, a cooperative management organization for outdoor enthusiasts in the Furano region, allows us to provide a wide range of guidance for our customers.
---
To see an outline of the suggested tour courses,
Please click on each course name (labeled alphabetically) in the map.





B: "Kita no Kuni kara" TV Drama Course
(approximately 2 hours)
route
Filming Locations of "Kita no Kuni kara" ⇒ Yahataoka ⇒ Furano Navel Landmark ⇒ Furano Wine Factory ⇒ Downtown Furano City
taxi fare
minicab 13,800 yen
minivan taxi 17,600 yen
(Taxes are included.)
C: Lavender / " Kita no Kuni kara " Course
(approximately 3 hours)
route
Furano Navel Landmark ⇒ Furano Wine Factory ⇒ Filming Locations of "Kita no Kuni kara" TV Drama ⇒ Farm Tomita ⇒ Downtown Furano City
taxi fare
minicab 20,700 yen
minivan taxi 26,400 yen
(Taxes are included.)
D: Mini Tour Course
(approximately 1 hour 30 minutes)
route
Furano Cheese Factory ⇒ Hilltop Photo Gallery ⇒ Ninguru Terrace ⇒ Furano Wine Factory
taxi fare
minicab 10,350 yen
minivan taxi 13,200 yen
(Taxes are included.)
E: Great Outdoors Course "A"
(approximately 4 hours)
route
Miyama Pass (Kamifurano) ⇒ Biei Hill Region ⇒ Biei Blue Pond ⇒ Shirogane Observatory (Biei) ⇒ Downtown Furano City
taxi fare
minicab 27,600 yen
minivan taxi 35,200 yen
(Taxes are included.)
F: Great Outdoors Course "B"
(approximately 7 hours)
route
Filming Locations of "Kita no Kuni kara" ⇒ Furano Navel Landmark ⇒ Furano Wine Factory ⇒ Farm Tomita (Nakafurano) ⇒ Hinode Park (Kamifurano) ⇒ Miyama Pass (Biei) ⇒ Biei Hill Region ⇒ Biei Blue Pond ⇒ Shirogane Observatory (Biei) ⇒ Mount Tokachi (Kamifurano) ⇒ Downtown Furano City
taxi fare
minicab 48,300 yen
minivan taxi 61,600 yen
(Taxes are included.)